May 13, 2021
SHAY SHAY NI FLUSHING
When it comes to Chinese cooking, Manhattan's Chinatown has the notoriety. However, it may be safe to say that downtown Flushing has a much greater variety. The atypical Cantonese Chow Mein, fried rice and egg roll were fine for the American palate many years ago, but this Queens hub offers Chinese food from just about every part of China.

To explore the array of areas, I began at the Sheraton LaGuardia East, located on 39th Avenue between Main and Prince streets (718-460-6666), noted for their high-ended fare and banquets. The restaurant offers both an extensive menu and the opportunity to dine with a friends banquet style, the one I chose and learned the various Chinese local styles: North, mild; South, spicy; East, sweet; and West, sour.

A Cold Plate of appetizers consisted of Drunken Chicken, lotus, sliced cucumbers, slices of duck, beef and spears of asparagus. Shark Fin Soup was the next course, a soup that I had never tasted. It was quite delicious and understood why the soup commanded the high price.

As the courses were served and the tea was poured, I learned that lightly tapping your three middle fingers on the table, was the non-verbal and polite way to thank someone. Golden Lobster, a southern dish, was prepared by splitting the lobster, coating it in cornstarch and a special golden sauce that uses duck egg yolks. This was one of two items shown to me at a later cooking lesson.

Peking-style Duck, a northern fare, was then served. Whereas Peking Duck takes days to prepare, this was not the ilk served with scallions, etc. and rolled up in crispy duck skin, although it was not any less tasty. It was followed by West Side Lake, a Shanghai dish that mainly consisted of shrimp. Incidentally, the Golden Lobster was plated to appear as though the lobster were whole and the West Side Lake plated in the form of a large shrimp with the shrimp in the middle. Artistry is quite important at this locale.

Back to the south, Hunan Beef Tendons was followed by Sub Gum Vegetables. I was then treated to a dessert from Xian; pumpkin shaped cake dumplings with a red bean paste. But then there was a final dish. Shanghai-style Walnut Soup, a sweet and creamy ending.

In regards to price, those who will think of nothing spending $25 on just a Manhattan entrée, a sample menu for four consists of: Auspicious Cold Cuts; Assorted Seafood Soup with Dry Scallops; Sauteed Lobster with Ginger and Scallion; Sauteed Scallop with Baby Greens; Dong Po Pork with Baby Bok Choy; Sauteed Seasonal Vegetables; and a Fresh Fruit Platter.

Now, into the kitchen for lessons. After learning how to prepare the lobster, I choose various items to make a meal, beginning with flank steak. Thin slices against the grain cutting off any fat and stringy stuff. Quick marinade in salt, sugar, egg and coat with some corn starch to be quickly deep fried. Pour off the oil.

Vegetables. Japanese eggplant, shitake and grand oyster mushrooms (I have never seen mushrooms this size) and baby bok choy. Use a different cutting board for meats and vegetables. Place a towel under the cutting board so that it won't slip. Mushrooms should not be washed but cleaned with a wet cloth. Cut mushrooms in triangles for presentation. Cut off skin from eggplant before placing in a bowl of water so that it won't turn brown.

Of interest was watching solo vegetables being quickly deep fried and then blanched to eliminate some of the oil. Otherwise vegetables, depending upon the consistency, were blanched and then sautéed with the other contents of the dish. Btw, the baby bok choy, purposely cut in halves, was used to surround the dish and decorate the plate.

And so I bid a "Shay Shay Ni" to Christopher Ficalora, the General Manager, and an even bigger "Shay Shay Ni" to the kitchen staff.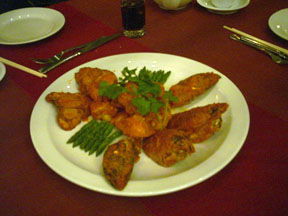 I am now off to find the source of baked goods. Tai Pan Bakery Inc. has three locations, two of which are on Main Street. The one at 37-25 seems to be the source as it is four stories high. I met owner Louis Chang, only having time to take a peek in the back to watch some cakes being decorated. This is the bakery you want to go to as it sources other stores around the city. How more fresh can you get?

One thing about Chinese pastry is that although it may look sweet, sugar is not the predominant ingredient. Sponge cakes have a lot more "sponge" to it and lighter than the American version. It's sort of a cross between a sponge cake and chiffon cake (which for some reason or other can only be bought at a kosher bakery).

The great thing about this bakery as with many other Chinese bakeries is that you can stuff yourself for lunch at less than $5.00. Roast pork bun, Tuna fish bun, Pineapple and chicken bun. Egg custard for dessert. If you've never tried "Bubble Tea", take a chance. It's black colored large tapioca pearls mixed with various flavors, teas or even coffee. Check out their website of www.taipan-bakery.com or call718-888-1111.

April 13, 2006 - Queens Times
---
No article or part of an article can be published without the written consent of the owner. You can contact the owner at: mexit@toyou.com
---